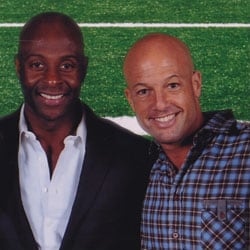 Virtually every major professional sports team now has a "team chiropractor" on staff. (1) Athletes as diverse as Lance Armstrong, seven-time winner of the Tour de France, and Scottie Pippen, former Chicago Bulls forward and winner of six NBA Championships, used chiropractic to enhance their performance. (1, 2) Testimonials by professional football players such as Jerry Rice, Hall of Fame NFL receiver, and Roger Craig, running back and three-time Super Bowl Champion, state chiropractic has not only helped them recover from injury faster but has also helped with injury prevention due to the body's increased performance. (3) There is a growing trend of chiropractic being utilized by top athletes.
Jerry Rice notes, "Chiropractic care has been instrumental in my life both on and off the field, and I am excited to share this with the American public, … I have been blessed with a long and healthy career as a professional athlete, and as I move forward into another stage of my life, chiropractic care will continue to be an important part of my game plan."
Athletes are seeking sports chiropractic care because chiropractic offers a natural way to increase performance and help prevent injury. (1) Research studies have found that chiropractic care helps athletes recover quickly from injuries and attain or exceed their previous performance levels (4) and increase reaction time (5, 6). Athletes with faster reaction times start their sprint for first base a split-second earlier, react to evade a tackle a moment quicker, and take off from the starting block an instant sooner.
Chiropractic Care for Athletes
Athletes are looking for any edge over their competition and most athletes, whether it be high school, college, or professional, are now using regular chiropractic care to maintain a higher level of function and performance. Any person interested in their optimum level of performance should be checked regularly by their chiropractor. Life Within Chiropractic's own Director of Chiropractic Client Services Enrique Fonseca uses chiropractic to enhance his athletic performance.
Enrique, pictured below running a race, runs with the San Diego Track Club and Front Runners of San Diego. He runs 5Ks, 10Ks, ½ marathons, and local track meets. To help him remain competitive, Enrique regularly receives chiropractic adjustments to enhance his athletic performance.
Chiropractic has made a difference in his life. After years using chiropractic to help battle chronic fatigue and migraines, Enrique decided to pursue a career in the chiropractic profession. In 1992, he earned a Postgraduate Certificate as a Chiropractic Assistant from Los Angeles College of Chiropractic. Later, he received a Bachelor's Degree in Business Administration with a minor in Human Resource Management.
If you are an athlete experiencing aches and pains or a "weekend warrior" who would like utilize the benefits of chiropractic care to improve your performance or reduce pain, schedule a New Patient Exam to learn how chiropractic care can benefit you.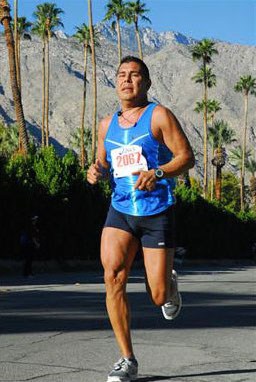 New Patient Exam - $39 Special Offer
When you schedule an exam with our family chiropractor, Dr. Marc Gottlieb, you will receive;
Computerized Spinal Analysis
Over $260 In Savings. Does Not Include An Adjustment.
(1) Keith Wassung, "Chiropractic and Athletes," Pathways to Family Wellness, vol. 7 (September 1, 2005), URL: http://icpa4kids.org/en/wellness-articles/179-chiropractic-for-life/1248-chiropractic-and-athletes.html?showall=1.
(2) Adam Jacobs and Dave Schlute, "The NBA and Chiropractic," Dr. Davis' Back and Wrist Pain Blog, November 20, 2009, URL: http://www.sfbackpaindoctor.com/2009/11/the-nba-and-chiropractic.html.
(3) Eric Plasker, "Roger Craig Speaks for Chiropractic," The American Chiropractor (n.d.), URL: http://www.theamericanchiropractor.com/index.php?option=com_flexicontent&view=items&id=4453:roger-craig-speaks-for-chiropractic.
(4) S. K. Grimston, J. R. Engsberg, L. Shaw, and N. W. Vetanze, "Muscular Rehabilitation Prescribed in Coordination with Prior Chiropractic Therapy as a Treatment for Sacroiliac Subluxations in Female Distance Runners," Chiropractic Sports Medicine (1990): 2-8.
(5) A. Lauro and B. Mouch, "Chiropractic Effects of Athletic Ability," The Journal of Chiropractic Research and Clinical Investigation (1991): 84-87.
(6) D. D. Kelly, B. A. Murphy, D. P. Backhouse, "Use of a Mental Rotation Reaction Time to Measure the Effects of Upper-Cervical Adjustments on Reaction Time," Journal of Manipulative Physiologic Therapeutics, vol. 23, no. 4 (May 2000): 246-51.